Click here to read the full article from John Vidal at The Observer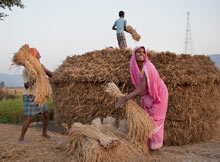 "It is a set of ideas, the absolute opposite to the first green revolution [of the 60s] which said that you had to change the genes and the soil nutrients to improve yields. That came at a tremendous ecological cost," says Uphoff. "Agriculture in the 21st century must be practised differently. Land and water resources are becoming scarcer, of poorer quality, or less reliable. Climatic conditions are in many places more adverse. SRI offers millions of disadvantaged households far better opportunities. Nobody is benefiting from this except the farmers; there are no patents, royalties or licensing fees."
For 40 years now, says Uphoff, science has been obsessed with improving seeds and using artificial fertilisers: "It's been genes, genes, genes. There has never been talk of managing crops. Corporations say 'we will breed you a better plant' and breeders work hard to get 5-10% increase in yields. We have tried to make agriculture an industrial enterprise and have forgotten its biological roots".