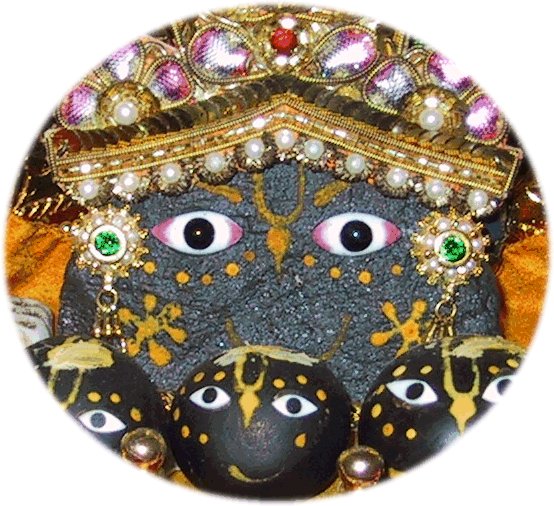 From a recent presentation by HG Radha-Krsna Prabhu at New Vrindaban Dham
This is a excellent and very detailed of the specific wonders and efforts that have made New Vraja Dham a real fulfillment of Prabhupada's vision for Vedic village life.
Istagosthi Notes - May 12, 2009
The visiting devotees from New Vraja Dhama (NVD) in Hungary presented a lot of information about their community, what it does, and how it works.
A total of 25 devotees attended the Istagosthi. There were a number of other options also scheduled at the same timing (a pizza "party" for all the festival workers), so attendance was down a little.
New Vraja Dhama (NVD) is also known as Eco Valley or Krsna Valley and is tucked in Hungary in the middle of Austria , Croatia , Romania and more. Hungary is a very small country about ½ the size of Mumbai. There are 2 temple, 1 in the capital and the farm project (New Vraja Dhama). There are 10 other centers around Hungary . There are about 1000 congregational members.
In Hungary there are 11 Eco villages (according to the standards set by the University there). Of these 11 villages only 2 are sustainable in the 3 areas of Environmentally, Socially, and Economically, one of which is New Vraja Dhama (NVD).
In NVD the temple building is in the center of all the other buildings. And Radhe Shyam are the Center of the Center. Everything in NVD is considered to be the abode of Radhe Shyam, so everything is kept up to a very high standard of cleanliness - the buildings, the surroundings, the grass, the trees, the cow barn are considered like the altar. Even the cow barn looks like you could eat off the floor. The devotees express their love and devotion through offering opulent flower garlands, more than just jewelry.
NVD has 550 acres, 800 different types of trees in the forest. The housing area is made up of apartment buildings with 6 flats in each building.
The temple is in the middle and there is a road called "The Milky Way" which leads to the goshala. There are 130 devotees living directly on the property and these devotees are all fed from the vegetable garden and the orchard. They have 150 beehives and sell a lot of honey. The Missionary Grhastra Community is to establish Varnashrama.
The land was purchased in 1993 and the main building constructed from 1993 to 1996. The Housing Area was developed next and The development of agriculture began in 1995 with $15,000.
About 130 devotees live on the temple property itself (40 couples, 20 children and 30 bramacaris) and another forty live in the nearby village. There are 11 Divisions of Activities with 44 different Departments. The 11 Divisions are: Education, Book Distribution, Social Care, Devotee Supplies, Eco Valley , Tourism, NVD Controlling (Administration - book keeping and preaching), Agriculture, Temple , Development (construction) and Business.
They use fructose and honey and no sugar. They do have to buy their butter to make ghee. But they cook only their own vegetables for the Deities (Radhe Shyam) and they use wood to cook.
There is a handicraft studio. The Social Care and Health Care is especially for the children, elders, mothers, and those will long term diseases.
When babies are born, they are offered to the Deities on the altar. Everything belongs to Radhe Shyam.
Each and everyone is engaged from the youngest to the oldest. There are only 4 children in the gurukula right now.
They have severe winters (almost like at New Vrindaban), they get snow for about 5 to 6 weeks. And their frost average is from the Beginning of November to the beginning of May. There do not have so much rain there
One of the biggest festivals is the Harvest Festival and also the Killing of Ravana. The children go collecting bhoga from the householders to bring to the Deities for Their Feast.
When visitors first see the goshalla they think it is a temple. It is called the Palace of the cows. The goshalla is pristine clean. Even the temple lawyer said he wanted to be born as a cow in that barn. Srila Sridhara Swami came and chanted his rounds with the cows.
The cows are milked by hand. There are cows with no babies that have been giving milk for 2 or 3 years before they even had a baby (about 2 to 3 liters per day). Every wedding ceremony includes feeding the cows chapattis, carrots and apples. The cows give over 3500 gallons of milk (per year?)
The Harvest Festival is the biggest festival of the year and they harvest the grain and grind the grain and offer the first chapatti to Govardhana. Everyone helps.
They produce 8 different kinds of grains, mostly for bread and chapattis.
They have 2 tractors and produce 10 times more grain than they need. There are 8 acres put aside just to cultivate with the oxen which provides enough for the entire community for the whole year. They also produce the grains for the animals.
All the houses are very colorful. They have rabbits, fox, 11 deer and some ground hogs. They deal with some animals by putting bottles in the soil with the top part sticking out. (Cruelty free animal control).
They do not produce anything for the outside market. They just try to produce enough for the devotees.
They grow more than 50 types of vegetables. They began by producing 80 to 100 differently types, including 40 different types of tomatoes. The cooks and pujari department gives a list to the garden about which vegetables are the best for cutting, peeling and storing for the winter and then the garden department tries to grow these things. They now only produce 5 different types of tomatoes that fit these qualifications. They grow cooperatively. They are working to provide for other temples.
The produce for the festivals are separate. They get 30,000 tourists and they are paying $6 - $7 to enter and go on a guided tour.
There are two separate types of tours - a 45 minute tour of the temple. Group tours last from 1.5 to 2.5 hours and care cultural programs for 100 - 120 guests. AT the end of the program everyone passes by the altar and they explain who is there and how their life is centered around the Deities. There is a peacock fan and they ask everyone to make a wish and fan Radhe Shyam (karma kanda).
Also in their website they ask tourists to bring some fruits and or flowers and they have a huge plate on the altar. Everyone sits down for a bhajan, then a pantomime or Bharanatium dance, a short 5 - 10 minute class. Then the guests are invited to dress up (as devotees) if they like or they can pray. So, they give them dhotis and saris and some play kartalas or whompers and at the very end they stand up and even dance.
For this they pay $15 - 20 per person, not including prasadam. Everyone is charged for prasadam. This is one set meal for prasadam, and 1 plate is usually enough. They don't feel preached to.
The "Bucsu" Festival for non-devotees - 6 to 8,0000 people. It is a 3 day Festival. They pay to come and spend 2 to 3 days. In the main tent 500 people with many different programs. There is a handicraft village at the Goshalla.
The Reality Show where guests get to experience "being" a devotee. The 1st room they go into is they are dressed in devotee clothes with Tilak and bindi and they are explain the importance of wearing these clothing. 2nd room - what is mantra meditation, ½ to 1 round together. 3rd room - give them ready made dough and they make a puri and they fry it. 4th room - Guests offer the puri and then told they can eat their puri.
They make sure they give everyone a receipt because the government agency sends representatives to check (in incognito).
They hire a train so people can go around the whole farm easily. Tourists are not allowed to visit the housing area.
They make a prasadam tent which is 1000 square feet.
There are 3 levels of Eco - Consciousness:
Preach to the scientists
The Indians - Living in harmony with the body - pure veg food - do not use any chemicals, yoga, mantra meditation
The Society
The Environment - Develop Eco - Ethics culture can be sustainable.
Living in a way that is in harmony by understanding our own Nature.
Scientific, Educational, Cooperative, representation and lobbying and communication
Scientific level - all fields of activity - Societal - (2 ministries), preventative, environmental protection, nature conservation, agriculture, Land Management, Water Management, Waste Management.
3 Main Results
1. International and cooperation - between Hungary and India (Ministries) on the governmental level.
2. Conferences for Ecological Sustainability. Signed cooperation with 6 universities. We can tutor students on the farm. Universities sending students to farm. They spend 2 to 3 months at the farm for practicum.
3. Ecological Workshops in Universities. They set the up and devotees give the lecture.
They have a Botanical garden with 800 types of trees and 1000 different plants, 109 species of birds.
There is a rain water collecting lake.
Lord Shiva's temple is in the Dhama. Also Srila Prabhupada's Samadhi. There are 650-700 Holy places all around the Farm (Varsana, Nandagram, Brahma ghat and Kaliya ghat.
- little hills and lakes), How Vrindaban manifests in NVD. They will be holding their first International Parikram.
Plans for the future
To expand the housing area and standardize the houses using straw bale on the outside.

Eco Portal - They applied for a grant to construct a research and educational center a conference room for 50 people which can be divided into smaller rooms. It will also have a library and offices.

Ayurvedic Clinic for everyone. Health care. Indian doctors to come for 6 months to volunteer and train up others.

Sewage system - the roots of reeds break down the waster water. A reep plantation which doesn't smell. Everything works by gravity.

Bamboo plantation and Energy plantation.
Questions and Answers: They use 8 acres of crops to feed 150 people year round. They need to have proper storage, a root cellar. Their root cellar is 3 times larger than the prasadam room and is divided into 3. The 1st part is the Root vegetables, the middle section is for the canned fruits, and the 3rd section is all the other fruits. (Cannot mix everything because certain gases make the other food spoil.
How do they can? They made 4,500 (5 liter - 1.5 gallon) bottles of canned fruits and veggies.
The canning arrangement is from the 1st of April until October 31st. Two times per week each devotees on the farm (except those with very specific services) goes into the garden for 1.5 hours in the morning. Currently there are about 60 devotees doing this. The matajis stay in the temple room and listen to a Prabhupada lecture which they are cutting vegetables.
By the main kitchen there are huge vats where everything is cooked. There are gas stoves and woks. Huge pots fit into one wok. They boil the empty bottles and then keep them hot, then add the cooked fruits and veggies and turn the bottle upside down and a vacuum is created, which keep the supplies fresh. They make fruits and jams and vegetable preserves.
There are certain grains that cannot be grown. They cannot grow rice. So for self-sufficiency that have investigated what grains people used during the World Wars and that is what they are planting. They are changing their rice eating habit. Rice acts to cool the body. The hung grains will heat the body. The breed house has spinach and leafy greens in April.
Due to the climate, they start the first veggies in mid June until October. Later on there are some pumpkins and squash.
According to research the grains that will works are Kasha (t) Barley, Amaranth.
No one lies in the temple, everyone lives around the temple Everyone goes to Mangal Arotik and yet there are different stages - pregnant matajis or diseased persons and those with different services sometimes dont' for 2 to 3 days. Just making sure there is an effort, but sometimes cannot come because of children. But the effort is there.
Eco - ethics - social part - there is a whole slide show (1.5 hours), just on this aspect of the community. The rules and regulations of the community are much more than just 4 regulations and 16 rounds and reading SP books. The eco-ethics is a mutually accepted shared ethics and morals that both individuals and the Community accept. This is the basis of everything working together as a whole unit
There is a value system - devotees through these morals and ethics - which is what your life is based on. If your value system is different than this community may not be for you. It is not for everyone. Not everyone can be a missionary or doctor.
Some Grhastra devotees work outside - the Bramacaris all live at the temple.
The main principles of not forcing anyone express to stay. People are encourages to leave if they don't fit in. Joining into a system - Joining a temple community or a village. Who do we want to join????
A place for everyone and everyone in their place. They came together to work on this. Joining the system. How to join ISKCON Hungary. Membership. There are many opportunities even for "nondevotees." : Supporter, sponsor, volunteer, and missionary. The last two can stay in the temple''To join the temple there is a 6 weeks Bhakta program which guests pay for which teaches the culture of how to behave. If they can't afford to pay they can stay for 3 months to work for free stay. This is based on Sri Upadeshamrta.
After this you can apply for a 1 year course. If accepted you can do missionary work - sankirtan, etc for 6 months. Here they get training on the Bhagavad-gita. After 1 year training, the encourage people to go out and start their own lives.
Next there is a 4 year course which is a correspondance course - An approved BA in Vaisnava Theology..
You figure out the nature of a person and engage them accordingly. Bhakta Astrix, music, Sanskrit, Astrology, and Sad dharsha. After the 7th year is over, they have been in the movement for years. They can get initiation anytime in that time period if they are interested, or not. They understand what they are doing and why they are there.
There is a personal Interview with each candidate and 90% of them are encouraged to go outside. They are the supporters, sponsors and congregation. ISKCON was good at making enemies with their own people.
With this system everyone knows the expectations in the beginning. They want to give their lives. They reconfirm their commitments over and over and re-apply. We always try to convert the bad experiences into good learning.
Two times per week in the morning for 1.5 hours, devotees go out to the garden. 80 % are coming from the cities and everyone is encouraged to go out in the garden. This is not so easy but it is emphasized. V
There is an internal education system - the Istagosthis are compulsory to attend.
There is a policy for Grhastras that each can apply to the Administration - head of the farm apply for a grant to expand or start a garden in their own home. The farm is giving the money to the grhastras and they promise to give 10% of the crops to the devotees for free.
Devotees experiencing that they are saving money by growing their own food.
This grant money is for developing, not for maintenance. The grhastras are eager to develop. In the very beginning theywere given some seeds, some greed beans, which grow extremely easily. And then they all became fired up in gardening. Wh didn't want to have a garden.
There is also a financial pushing that if a department does not send someone to the garden (because they have a specific other service), that Department is then responsible to pay to the temple for their employees that have not gardened. This is an incentive for the Department heads to send everyone.
When we look at New Vrindaban we see that you have everything. You have a Holy Tirtha where SP graced this place by his personal presence. You have many devotees who heard SO personally. You all just need to come together. These Istagosthis are great to come together and to figure it out together. You need to figure it out inside our your community.
You have the biggest potential - there are many parts working you just need to figure out what are your next steps.
You have everything. You have much more opulence than you can measure. You have Land, cows, devotees, community.
AND you have lots of bad experience. You have the experiences and the solutions among all of you. Please do not wait for anyone to come to tell you what to do.
Keep having Istagosthis and start working on cooperation. That cooperation will resolve everything here. You will be the most flourishing in the whole world.
You have everything. We would like to encourage you to come together as much as possible. Do the brainstorming work. List all that Srila Prabhupada told you personally. List all the facilities you have. You will see that nothing is missing.
What is going on here?? We never had Srila Prabhupada's personal association in Hungary . Someone brought him a watermelon from Hungary . That is our only direct contact with Srila Prabhupada.
You have all the knowledge. Just don't wait. Sit down maybe for 12 days or 2 weeks straight. You could have a whole structure and plans to go forward and very soon you could have more that we have.
Most Srila Prabhupada disciples are old. You can do it right now in your lifetime. Just start doing it.
Siva Ram Swami has encouraged you all not to depend on him. But he is the driving force and all the success is because of his strong and firm commitment to fulfill Srila Prabhupada's desire. He also tried in UK and moved to Hungary . Poverty was so high that it could work. There are 12 centers in Hungary - what will happen after Siva Ram leaves. He is trying to address that issue right now.
One Yatra President fulfills Srila Prabhupada
S mission. WE have many center leaders, but we have One Mission and One Goal. Cooperation. His vision is so broad that SPM is always asking for advice. He is training us up.
Start having One Vision - not 2 or 3. Come together and work together and just do it.
Don't wait for someone to come new and say follow me. Just do it.
We are going in that direction.
It is a matter of respect. The basis of our success is that we respect the Individual, the environment and have all respect towards Krsna. If respect is there you can make it. If is is not - you won't make it.
Encouraging for me to see that an entire group of people are coming together. None of the managers are there???
How old is the oldest child in Hungary ? 21 who moved with the mother when she was 5 and went to the gurukula and got married and has a daughter.
The Amish people are doing this. They send their children away if they back in 2 year, they are welcome, if not they do not come back. Some Amish do this (not all).
So many communities that can learn from New Vrindaban's mistakes. Try to see the elements that would be proper to apply in our Vaisnava culture.
How many independent people come together???
No private agreements. When someone builds a house - that is considered to be a loan to the community. They are paid back to them if they ever leave the community. If the value has increased, they are paid back. Not like an investment - But they never own the land, it is just given to them for use but it belongs to ISKCON.
Rural lifestyle
Pilgrimage - tourism.
How to balance these two. Challenge how the 2 can work together.